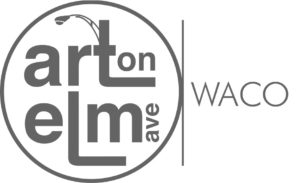 ART ON ELM 2017:
Friday night Preview Party, April 7, 6:30-8:30 pm
Saturday BIG EVENT, April 8, 10 am-5pm
Art on Elm Avenue is a free pop-up art exhibition on historic Elm Avenue featuring local ARTISTS, MUSICIANS, CRAFT & FOOD VENDORS and CHILDREN'S ACTIVITIES.
The weekend begins on Friday night with a colorful preview party, Splash on the Color!, which is the opening of the juried Artist Exhibition.
On Saturday there is an abundance of art, handcrafted goods, great music to vibe to and a smorgasbord of food. Come to admire the art; stay to enjoy the rest!
For more information, visit the Art on Elm website: artonelm.org
Brought to you by Waco Cultural Arts Fest dba Cultural Arts of Waco and Sponsor Partners.