WACO NATIONAL OUTDOOR SCULPTURE INVITATIONAL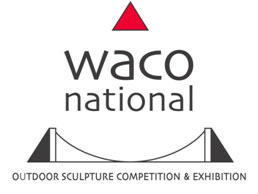 Mission
To bring sculpture by renowned and emerging artists into Waco's downtown in order to promote art in public places.
The exhibitions encourage Waco's citizens and visitors to walk through the downtown area and enlivens our city center. Public art is a sign that a city is investing in itself– creating spaces and places that spark the imagination.  A strong public art program contributes to a city's quality of life—making it a more attractive place to live, work, play, learn, and visit.
Waco Cultural Arts Fest , dba Cultural Arts of Waco initiated the Waco Outdoor Sculpture Competition and Exhibition in 2004 with a $5,000 grant from the Audre and Bernard Rapoport Foundation and the support of the City of Waco Parks and Recreation Department, Parks Board and City Council.
Advisors: Karl Umlauf and Robbie Barber Baylor University Department of Art, and Patricia B. Meadows, Juror co-founder of the Dallas Visual Art Center. Meadows is the art curator for Hall Office Park, Sculpture Park a 162 acre multi-tenant office development Frisco, Texas. Jesús Moroles became an advisor in 2005.
Program Goals
To create an enhanced visual environment for Waco residents and visitors
To promote tourism and economic vitality in the city through the artistic design of public spaces.
To provide Waco with widespread exposure  of sculpture mediums from nationally acclaimed artists
To make the Brazos River Corridor the cultural gateway to Waco and Central Texas
To integrate the design work of artists into the city's infrastructure capital improvements
To integrate public art into each of the city's key development initiatives and community sectors
To create a visual history that educates and informs visitors about of Waco and Central Texas